You hear them in your ear, they bite you and anyone who enters your yard even your dog. They are Mosquitoes. Mosquitoes are more than just
annoying and pests that ruin the holiday BBQ, they can carry many diseases. Both Kansas and Missouri have the Aedes aegypti mosquito which is capable of carrying diseases such as Zika, dengue, chikungunya, and other viruses. That is the reason you are probably searching something related to eliminating mosquitoes from your yard or ways to get rid of mosquitos.  There are several ways to get rid of mosquitoes, but an easy way to get rid of mosquitoes is to call us and get our mosquito control package.
Mantis Pest Solutions provides expert pest control in Lee's Summit and surrounding areas. We have a variety of safe and effective products and tools used for eliminating mosquitoes from your yard and home. We also provide both exterior and interior pest control and exterminator services to ensure that we don't miss a spot.
Our Mosquito control service includes:
Inspection of property for areas of mosquito breeding sites:

Female mosquitoes ready to lay eggs are the only mosquito that will bite humans or pets. They need the blood in order to lay their eggs. Some mosquitoes are active morning and evening, some are active during the day, and others are active at night. Many mosquitoes will rest during the day on the underside of leaves in bushes, plants, and trees. Disrupting these breeding patterns is essential to have complete mosquito yard control.
Customer consultation:

mosquito control and prevention is all about

communication between you and the technician. We will coordinate the best time to spray your yard for mosquitoes as well as projects you may need to look at such as yard maintenance to reduce standing water.  You will also find a variety of related articles that will provide additional information about these pests and disease such as Zika.
Monthly 'inside/out' mosquito treatment:

Spraying for mosquitoes in your yard needs to be done monthly due to their rapid breeding cycle. The best way to get rid of mosquitoes outside is through a misting treatment.
We use specific misting backpacks designed to treat for mosquitoes where they rest. Many mosquitoes rest in areas that keep them out of the heat during the day. Places like the undersides of leaves on plants, bushes, and trees and under decks. Some mosquitoes can rest on leaves in trees up to 15 ft high. Our equipment allows us to treat all of these potential problem areas.
Ongoing monitoring and Mosquito Protection:

Like all of your other pest control services we guarantee our work. If you are still seeing an infestation, or have any questions call us and we will come back for free. Regular monitoring and spraying is the best mosquito prevention one can do.
It is important to know that Flowering plants are not treated in the mosquito fogging process in order to help protect beneficial insects like honey bees and butterflies. These flowers act as a repellent so mosquitoes don't normally nest on flowering plants. Mosquitoes will also not rest on or in manicured grass. Thus blanket treatments of grass are normally not required.
Call Mantis Pest Solutions at (816) 287-5030 to kill mosquitoes in your yard with our expert exterminator and home pest control service in the Lee's Summit area to enjoy a mosquito free yard.
---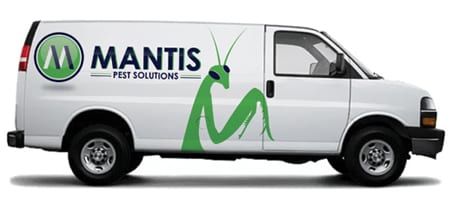 [su_button url="https://mantispestsolutions.com/contact/" background="#4FAD4F" size="10″ wide="yes" center="yes" radius="0″]Get a Free Quote[/su_button]
[testimonials]
Related Articles to Mosquito Control and the Zika Virus
How to Protect Yourself from Mosquitoes this Summer
What Can Be Done About Zika From the CDC
[one_half]
[/one_half]
[one_half_last]
SERVING LEE'S SUMMIT AND GREATER KANSAS AREA
810 NW St. Ste. A
Lee's Summit, MO 64086
HOURS OF OPERATION
Mon – Fri          8:00 am – 5:00 pm
Saturday          10:00 am – 3:00 pm
Sunday              Closed
[/one_half_last]