Bed Bugs can be a fear for even the most expert travelers. You can check the bed bug registry, search for bed bugs in your hotel room before, you may even wash your laundry upon return and still get them. In our article "5 Ways to Avoid Bringing Bed Bugs Home After Vacation" we mentioned bed bug proofing your luggage. This is probably the most important step. In an ideal world you would have each room treated for bedbugs before you arrive, but let's be honest this is unrealistic and expensive.  By bed bug proofing your luggage you can have bed bug prevention and protection.
Why is it important to bed bug proof your luggage?
Have you ever wondered how bed bugs travel?  You may take a car or a plane to get from home to your vacation spot, but bed bugs use your luggage.  Bed Bugs are called bed bugs because they usually are found in mattresses seams, box springs, bedding, and bed frames. They also can be found in carpet, clothes, and even some clutter. This is why so many travelers are particularly worried about finding bed bugs in their hotel room. From here bed bugs become hitchhikers and travel through your luggage including things you put in your luggage like clothes that have had contact with the bed or floor. Bed bugs do not usually spread person to person like lice.  That means the best way to protect your home is to prevent bed bugs from hitchhiking on your luggage.
How to Bed Bug Proof Your Luggage
There are a variety of ways to bed bug proof your luggage from expensive to not inexpensive.  With bed bug prevention and protection, what you pay is what you get. Bed Bugs are evolving and have started becoming more resistant to certain products.  The best way to treat bed bugs is through a heat treatment, but heat treatments are also the most expensive. That being said, even though heat can be more effective than other bed bug treatments, theses other treatments can still work.
Buying Bed Bug Proof Luggage
The first and most effective way is to buy bed bug proof luggage. The most recommended is the thermal striker heated bed bug proof luggage shown below. This is because it has an outer shell that prevents bed bugs and is capable of doing a heat treatment to kill bed bugs that are inside the suitcase. As great of a solution as it is, self-heating luggage is also more expensive than other solutions
Another bed bug proof luggage is the  Live Free Travel Bag with Kiltrex Cutelin Bedbug Treated Fabric. Although it is not as fancy and also not capable of doing a heat treatment, the bed bug treated fabric helps prevent bed bugs from entering your luggage. It is also a lot more economical compared to the thermal striker.
Bed Bug Proof Liners
Another method is to add bed bug proof liners to the suitcases you already own. There are a lot of different suitcase liners on the market that can protect your clothes. Most have either been treated to prevent bed bugs or are made in a manner that bed bugs can not get through the fabric. Here are a few liners we suggest.
Along with liners, Travel Space Saver Vacuum Storage Bags are good for reducing space and can help prevent bed bugs. Bed Bugs need oxygen to survive, and any bed bug that is on your clothes inside these bags will eventually die due to lack of oxygen. Although these bags can kill bed bugs it is important to note  that it does not kill their eggs which can later hatch when you return home.
Bed Bug Spray
Last of all there are some bed bug sprays. As mentioned before you pay is what you get. The most common bed bugs sprays are not enough to stop a bed bug infestation. However, they still may be of help. You can use this bed bug product to spray down down your hotel room before you enter as well as spray your luggage and clothes as you leave your hotel room and then again before you enter your home.
As you can see there are a variety of ways to bed bug proof your luggage. You could also do some research and use one of the various types of home remedies found on the internet. However, the ones mentioned above are what we have found to be the most effective. It is important to remember that bed bugs nymphs are able to survive several weeks without feeding and adult bed bugs can survive up to five months or more without a meal.  For this reason, it is important to continue to inspect your home for bed bugs even weeks after returning home.
Regardless of what precautions one takes when bed bug proofing their luggage it is always important to wash clothes upon returning home. Just because your luggage is bed bug proof does not mean you stop being on the lookout for bed bugs. Here is more information on how to avoid bringing bed bugs home after vacation.
In closing, hotel rooms are some of the most common places bed bug originate from in order to enter your home.  They can also be found in common places such movie theaters, furniture stores, and other public places.  If you have any questions about bed bugs please contact us or leave us a comment.
Mantis Pest Solutions offers total bed bug treatment to get rid of those nasty, itchy welt-causing pests. For more information about bed bug treatment in the Lees Summit area, call us today at (816) 287- 5030.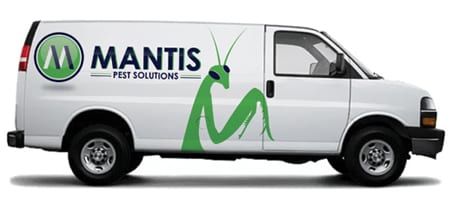 [su_button url="https://mantispestsolutions.com/contact/" background="#4FAD4F" size="10″ wide="yes" center="yes" radius="0″]Get a Free Quote[/su_button]
[testimonials]
ABOUT THE AUTHOR: Ty the Bug Guy
Ty Hawkins, also known as Ty the Bug Guy, has been in the pest exterminator for several years and exterminated pests all over the country. Ty has worked for many companies including Orkin and Terminix.
While working for these companies he realized he could offer a more friendly and personal service. He called Rick and together they started Mantis Pest Solutions and now offer pest control in Overland Park and Lee's Summit. Ty's goal is to make Mantis more than just your local pest control company, but a business that constantly is giving back the community as well.
Quickly after a few services, Ty became known as Ty the Bug Guy. Feeling a bigger need to help people with their pest infestations he created his own pest control tip blog to better serve the local community and those all over the country with their pest issues.
When Ty isn't helping residents of the Kansas City area get rid of their pests or posting about pest control tips Ty enjoys spending time with his family. They love traveling, playing board games and trying new restaurants. When you call in for a pest control quote don't forget to talk about some of the great places to eat or things to do in Kansas City.
You can also read some of his most popular pest control tips and articles below:
Frequently Asked Questions about Pest Control
5 Things your Pest Control Technician wants you to Understand
How to Bed Bug Proof Your Luggage
Related Articles to Bed Bug Treatments