Preventing termite activity is a crucial part of home maintenance. Termite infestations can affect even the best homes. These insects are good at gaining access to homes and are equally proficient at causing serious damage if left unchecked. Here are some steps that you can take to make such an infestation less likely:
Inspect Regularly
While having a pest-control professional inspect your property is essential, you can conduct your own inspections as well. As you perform home maintenance tasks and yard work, you should look for any evidence of termite activity around your home.
Pay Attention to Your Landscaping
Make sure that the mulch in your yard does not go all the way to your foundation. This may present a more uniform appearance, but it can also provide a way for termites to enter your walls without being detected. You should also trim any shrubbery around your home away from the foundation. Any trees or tree stumps that have been infested should be removed from your property.
Look for Standing Water
Like most living creatures, termites need water to survive. Look for any standing water around your home and remove it. If there are leaky pipes, these should be fixed quickly.
Remove Scrap Wood
Since the cellulose in wood is their main food source, it is important to keep any stored lumber or firewood in your yard away from your home. When storing this wood, place a hard barrier such as a concrete slab under the wood to keep the termites from getting to it.
Inspect the Interior
Boxes and large pieces of furniture can hide termite activity if they are kept against the walls; move these items when inspecting. Potential signs of termite activity inside a home include blistered paneling or sheetrock. You should also look for debris on the walls that is similar in color to soil. You can locate hollow, termite-damaged areas by lightly tapping on the wall.
Get Rid of Moist Areas
You should ventilate potentially humid areas of your home such as crawl spaces and attics to keep them from being hospitable to termites. In addition, any leaks from the roof or from plumbing should be repaired as soon as they are discovered.
Call Mantis Pest Solutions
The most important step is to call in a professional for a termite inspection in Overland Park. if you suspect that you have a termite problem. Our pest control professionals have the training to identify and treat termite infestations. We can perform a thorough inspection of your home and find the entry points; we can also tell you how to fix them properly.
For more information about our commercial pest control services, call Mantis Pest Solutions today at (816) 287-5030 or (913) 225-7060.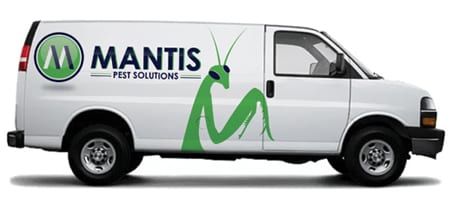 [su_button url="https://mantispestsolutions.com/contact/" background="#4FAD4F" size="10″ wide="yes" center="yes" radius="0″]Get a Free Quote[/su_button]
ABOUT THE AUTHOR: Ty the Bug Guy
Ty Hawkins, also known as Ty the Bug Guy, has been in the pest exterminator for several years and exterminated pests all over the country. Ty has worked for many companies including Orkin and Terminix.
While working for these companies he realized he could offer a more friendly and personal service. He called Rick and together they started Mantis Pest Solutions and now offer pest control in Overland Park and Lee's Summit. Ty's goal is to make Mantis more than just your local pest control company, but a business that constantly is giving back the community as well.
Quickly after a few services, Ty became known as Ty the Bug Guy. Feeling a bigger need to help people with their pest infestations he created his own pest control tip blog to better serve the local community and those all over the country with their pest issues.
When Ty isn't helping residents of the Kansas City area get rid of their pests or posting about pest control tips Ty enjoys spending time with his family. They love traveling, playing board games and trying new restaurants. When you call in for a pest control quote don't forget to talk about some of the great places to eat or things to do in Kansas City.
You can also read some of his most popular pest control tips and articles below:
Frequently Asked Questions about Pest Control
5 Things your Pest Control Technician wants you to Understand
How to Bed Bug Proof Your Luggage
[testimonials] [su_button url="https://mantispestsolutions.com/contact/" background="#4FAD4F" size="10″ wide="yes" center="yes" radius="0″]Get a Free Quote[/su_button]