It's that time of year where everyone starts spring cleaning. We have compiled a variety of tasks to help organize your spring cleaning into one easy cleaning checklist. Doing the tasks on the checklist will not only leave your house clean, but protect it from a variety of pests that can enter your home. These tasks can also kill some those pests that may have spent the winter in your home.  Some of these things are so important that we do many of these checks each time we do one of our pest control services. Here is a printable spring cleaning checklist for your convenience.
[su_button url="http://mantispestsolutions.com/spring-checklist/" target="blank" background="#4FAD4F" size="15″ wide="yes" center="yes" radius="0″]FREE SPRING CLEANING CHECKLIST[/su_button]
The Kitchen
Pests like humans must eat to survive and the best place for them to find food is in your pantry and kitchen. The Fruit Loop that was accidently swept under the oven could be a main source of food for many of the bugs that could be nesting underneath your oven.
deep clean the dishwasher
clean and organize the refrigerator
clean and organize the freezer
vacuum refrigerator coils
clean the oven
clean stove top burners
clean and disinfect the garbage disposal
clean and organize plastic and other food storage containers
organize the pantry
clean and organize kitchen drawers
deep clean pots, pans, and bakeware
clean the hood vent and change filter if needed
clean and disinfect small appliances
reorganize kitchen cabinets and drawers
clean the pot rack
clean and disinfect the trash can
straighten cups, mugs, and glasses in the cabinets and cupboard
clean and disinfect high chairs
deep clean and polish cabinet doors
clean tile and use touch up paint on walls
deep clean floors
disinfect door knobs, light fixtures and pulls
clean the microwave
clean under the sink and eliminate the unnecessary
Reset Mouse traps
Change out spider and cockroach traps
Sweep away cobwebs
Clean other areas that don't see the light of day
clean vents
clean crumbs out of your toaster
clean under fridge and stove
The Bedrooms
Sleep tight don't let the bed bugs bite! Follow these steps to prevent things such as bed bugs, rodents, and spiders from interrupting your sleep.
Wash windows and window sills. Take out and wash window screens
For each drawer: remove items, wash drawer, place items back neatly.  Donate Items you no longer need. 
Remove everything from closets. Sweep and wash closet floor. Put everything back neatly.
Donate items you no longer need.  Try not to store things on closet floor.
Move Bed.  Sweep or vacuum under bed.  Try not to store things under bed.
Launder bedding and curtains.  Wash pillows in hot water
Wash floor registers and other vent covers
Dust lights. Clean lamp shades.
Wash switch plates.  Wash walls and trim as needed.
The Bathrooms
We may not think of the bathrooms in our home as a common place for pests to enter, but the extra humidity does attract bugs. Also be sure to clean areas that might be moldy, as the dirty environments provide a food source for many insects
Empty all cabinets and vanity. Wash inside, replace items neatly.  Discard expired medications and cosmetics.
Wash outside of cabinets and vanities
Clean sink and drain.
Wash windows and window sills. Take out and wash window screens.
Clean mirror and frame .
Dust light fixtures.
Clean toilet, inside and out. Remove seat and clean around seat bolts.
Wash light switch plates.
Wash walls and trim.
Wash doors and door knobs.
Wash floor registers and other vent covers.
Sweep and wash floors.
Clean tub. Clean drain.
Shine faucets.
The Living Room
The living room area tends to have a lot of foot traffic from you and/or your pets. Since it is usually closest to door and entryways. Be sure to inspect the thresh holds to see if they need to be replaced. Insects like ants and spiders can sneak into your home through tiny gaps underneath the doors if they aren't sealing properly.
Vacuum sofas.
Spot clean sofas, where you may have stains
Launder throw pillows and blankets.
Dust shelves, furniture and decor.
Clean lamps and lampshades.
Wash windows and window sills.
Take out and wash window screens.
Clean television screen.
Carefully dust electronics.
Tidy electronics wires.
Sort through music and DVD's.
Sort books and magazines.  Donate or recycle ones that you no longer read.
Wash hard plastic children's toys with warm soapy water. Rinse and dry.  Launder stuffed toys.
Wash light switch plates.
Wash walls and trim as needed.
Wash doors and knobs.
Wash floor registers and other vent covers.
Clean floors.
Dust cobwebs in corners and all over the room
The Laundry Room
Ticks, Fleas, and other bugs oh my. Many bugs like to cling on to our clothes and then jump to our bed, couches, and other furniture. Make sure if your store dirty clothes in the laundry room, it is sterilized to kill these small invaders. This is particularly important if you have a pet that sleeps in this room, as that may attract fleas.
Clean out your dryer vent
clean inside washing machine
empty washing machine drain pump
dust crown molding, wall corners, and floor molding
dust behind and underneath washer and dryer
sweep and mop floors
reseal tile grout
wash walls
clean and organize contents on shelving and in cabinets
eliminate unnecessary cleaning products
install organizers to hold cleaning products
disinfect door knobs and light switch plates
clean out from under washer and dryer
clean out any cobwebs
check door seal (replace if compromised)
The Garage
For many pests, the garage will be the easiest way of entry to your home. If the garage door is left open frequently or doesn't seal properly, there is a good chance bugs have entered your garage and made your home their living space for the winter. Most garages are not cleaned on a regular basis attracting many bugs especially ants and spiders that can crawl under the garage door.
Empty everything out of the garage and dust each item
Throw away unneeded items, label and box needed items.
Sweep cobwebs found in the corners and the ceiling
Wash Walls
Wash light switch plates
Wash Walls
Sweep Garage Floor
Mop Garage Floor
Return all needed items into the garage in an organized fashion
Outside
This is the front line of battle and where pests enter your home. Long grass, compost, from yours or even your neighbor's yard down the street can be a nesting haven for a variety of bugs and pets. Wasps love to make nests on the siding of your house and in playground equipment. You may even have small rodents and snakes living under your lawn.
Clean your Gutters
Rinse your Driveway
Wash Windows
Trim Hedges
Weed Plants
Mow the Lawn
Wash Siding
Spray for Weeds
Sweep patio
Look for any repairs that may need to be made on the patio or fence
Look for wasp nests along the siding of your house, trees, or swing sets
Check for any holes where snakes and other rodents might be living underground
Call Mantis Pest Solutions to spray for bugs and set traps.
For more information about our commercial pest control services, call Mantis Pest Solutions today at (816) 287-5030 or (913) 225-7060.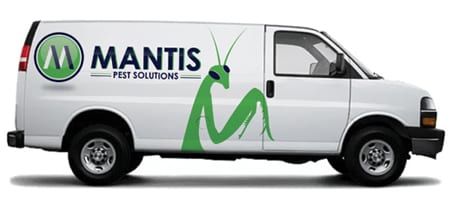 [su_button url="https://mantispestsolutions.com/contact/" background="#4FAD4F" size="10″ wide="yes" center="yes" radius="0″]Get a Free Quote[/su_button]
ABOUT THE AUTHOR: Ty the Bug Guy
Ty Hawkins, also known as Ty the Bug Guy, has been in the pest exterminator for several years and exterminated pests all over the country. Ty has worked for many companies including Orkin and Terminix.
While working for these companies he realized he could offer a more friendly and personal service. He called Rick and together they started Mantis Pest Solutions and now offer pest control in Overland Park and Lee's Summit. Ty's goal is to make Mantis more than just your local pest control company, but a business that constantly is giving back the community as well.
Quickly after a few services, Ty became known as Ty the Bug Guy. Feeling a bigger need to help people with their pest infestations he created his own pest control tip blog to better serve the local community and those all over the country with their pest issues.
When Ty isn't helping residents of the Kansas City area get rid of their pests or posting about pest control tips Ty enjoys spending time with his family. They love traveling, playing board games and trying new restaurants. When you call in for a pest control quote don't forget to talk about some of the great places to eat or things to do in Kansas City.
You can also read some of his most popular pest control tips and articles below:
Frequently Asked Questions about Pest Control
5 Things your Pest Control Technician wants you to Understand
How to Bed Bug Proof Your Luggage
[testimonials] [su_button url="https://mantispestsolutions.com/contact/" background="#4FAD4F" size="10″ wide="yes" center="yes" radius="0″]Get a Free Quote[/su_button]