Temperatures across Kansas City and much of Missouri this summer have been (for the most part) autumn-like. It has been great to participate in outdoor activities that normally would be too hot during the day. But as fall approaches and the days get shorter, we will start to spend more time in our homes. This is also true for insects.
Around this time of year, many insects start to instinctively feel the need to start preparing for the upcoming winter months. So as they forage for food in new places, they also are on the lookout for new and safe places to nest. Unfortunately for many of us, that means the walls of our homes.
Insects such as box elder bugs congregate by the thousands on warm outside walls, typically on the west and south sides of homes. Box elders bugs like the warmth that is radiated from the sun. They will look to find cracks and crevices to build their nests to over winter. These bugs are not known to do damage to homes, it is just the sheer number of them that normally causes alarm. If you do find these creatures on the inside of your home try not to crush or smash them. They can leave a red stain on carpets, upholstery or drapes/curtains.
Instead, vacuum them up and then dispose of the bag or canister content in a garbage can outside. There are also other remedies to prevent these bugs from coming in your home. As the foundation and soil around your home continues to settle, cracks and crevices are formed around windows, doors or even along walls and foundation areas. Use calk or other material to fill in these entry points and seal out those bugs. Make sure door sweeps function properly and doors seal up tight. Attic vents, crawl space vents and doors should be inspected to make sure they are working effectively. If they are damaged or loose, replace or fix them.
Other insects that commonly over-winter in homes are Asian lady beetles (lady bug), crickets, spiders and yes, mice and rats. By taking the necessary steps to seal up the outside cracks and crevices of your home, you will be able to effectively prevent these pests from making your home their home.
Other things to consider: When trying to eliminate bugs and pests from entering your home, locating and appropriately treating nesting sites with the proper product is vital to the overall success of the program. Many pest control battles have been valiantly fought but ultimately lost due to not spending the time to locate nesting sites.
Most nesting sites are going to be right around the foundation and structure of your home. Nesting sites may include wood piles, piles of leafs (you know, the ones that are still there from last year) tall grass or weeds (yep you are going to have to finally pull those things that are 6 feet tall or use a machete if you must) or other clutter around the home. By getting rid of these eye sores, you will take a major step forward in winning the battle against those bugs. Not to mention winning major brownie points towards your significant other!!
Until next time…stay busy.
For more information about our commercial pest control services, call Mantis Pest Solutions today at (816) 287-5030 or (913) 225-7060.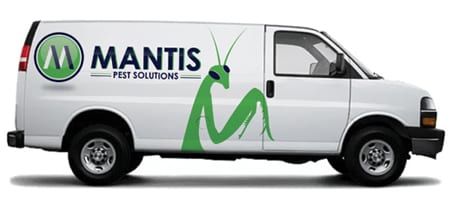 [su_button url="https://mantispestsolutions.com/contact/" background="#4FAD4F" size="10″ wide="yes" center="yes" radius="0″]Get a Free Quote[/su_button]
ABOUT THE AUTHOR: Ty the Bug Guy
Ty Hawkins, also known as Ty the Bug Guy, has been in the pest exterminator for several years and exterminated pests all over the country. Ty has worked for many companies including Orkin and Terminix.
While working for these companies he realized he could offer a more friendly and personal service. He called Rick and together they started Mantis Pest Solutions and now offer pest control in Overland Park and Lee's Summit. Ty's goal is to make Mantis more than just your local pest control company, but a business that constantly is giving back the community as well.
Quickly after a few services, Ty became known as Ty the Bug Guy. Feeling a bigger need to help people with their pest infestations he created his own pest control tip blog to better serve the local community and those all over the country with their pest issues.
When Ty isn't helping residents of the Kansas City area get rid of their pests or posting about pest control tips Ty enjoys spending time with his family. They love traveling, playing board games and trying new restaurants. When you call in for a pest control quote don't forget to talk about some of the great places to eat or things to do in Kansas City.
You can also read some of his most popular pest control tips and articles below:
Frequently Asked Questions about Pest Control
5 Things your Pest Control Technician wants you to Understand
How to Bed Bug Proof Your Luggage
[testimonials] [su_button url="https://mantispestsolutions.com/contact/" background="#4FAD4F" size="10″ wide="yes" center="yes" radius="0″]Get a Free Quote[/su_button]