Yes, that time is upon us leaves are falling, the temperature is dropping, and many people in Overland Park are already getting ready for Christmas.  Just as one prepares for the holidays one should also think about preparing your home for the winter; especially sealing your house from bugs.
Many residents don't believe us when we say that the winter pest control service is one of the most important services of the year, but it really is.  You like to stay warm in winter and avoid the cold, well so do the pests. In fact, this is the time they prefer to lay their eggs and multiply.  For more reasons why winter pest control is needed please read "Why Pest Control in the Winter?" As important as it is to exterminate bugs when they lay their eggs, it is more important to prevent bugs from entering your home by sealing your house from bugs in the fall.
Fall cleaning, like spring cleaning, is nothing new. In fact, you are probably using a few home maintenance checklists already. Some of you even call it winterizing your home.  Regardless what you call it, many of the things you already do to prepare your home for winter is helping prevent a variety of pests.
Our Winterize Your Home / Sealing Your House from Bug Checklist:
Conduct a Deep Clean:  Just like spring cleaning fall cleaning is just as important.  The frequency of deep cleans really depends on the person. For example, if you did a very thorough spring cleaning using our spring cleaning checklist then you probably don't need to go as in depth in the fall.  In fact, most of the indoor items can still be done during the winter. Your cleaning priority in the fall should be the yard and the garage.
Clean your gutters and Roof:  This is important because not only can it cause you many problems if water doesn't drain properly buildups of leaves and other debris are great places for bugs to live. While cleaning your gutter and roof, it is important to check for any damage to protect your home from leaks or holes that bugs could enter from. Another winter safety tip is to cut down any branches that could fall on your roof due to heavy snowfall. Not only are these branches a hazard, but are a great way for bugs and rodents to enter your attic.
Seal Your Windows and Doors: This is a very common winter energy saving tip but also is great to keep bugs out of your home. Bugs want to come in and enjoy your nice warm, home and one of the most common ways they enter are through small cracks in the window and doors. Sealing windows with caulk and other methods are not only sealing your house from cold air but sealing your house from bugs as well.  Although people think of sealing their windows they often forget to seal their doors. You can google all sorts of articles on how to seal a door to keep bugs out or see our in-depth guide on how to seal your doors from bugs. 
Check Your Vents: Another common energy tip for winter is also effective at reducing bugs. Vents are great places for rodents and other places to live. It is also a way they travel around your house. Vents can cause gather a lot of debris which reduces the efficacy of your heating system as well as is a great place for bugs to gather. We recommend at least looking at your vents and wiping them grates off, but every once and awhile you should have a company come in and clean your air ducts. This deep clean not only gets rid of pests but will help the quality of air in your home. 

Check Your Attic: If you have an attic you can get into it is also best to clean it out. This is where most spiders and pests tend to go because in winter it is one of the warmest places in the house as well as the least disturbed. Sealing it the best you can is recommended. Regardless our customers get a free attic treatment each winter because of how important it is to treat the attic. The attic is where we generally find most spiders and silverfish.
Drain your irrigation System and Turn off your Faucets: Although this isn't a true bug prevention tip we would hate for anyone's pipes to freeze it is a costly and damaging mistake if not done. From a pest perspective, many people in Overland Park tend to find spiders by these valves to turn the water off. This is generally because it is close to water, dark, and they are generally not disturbed. Before switching your water off, we recommend first looking out for spiders so you don't get a spider bite but cleaning it out quickly to reduce the number of bugs that multiply there.
The main purpose of this fall home maintenance checklist is first to winterize your home and protect it from any damage winter may bring, but second is to seal your house from bugs so they don't get in and multiply in the winter. You can break this process, down however you like, but we recommend that you start sealing your doors and windows as soon as the temperature starts to drop because that is when bugs are going to start looking to relocate their home.
Mantis Pest Solutions offers total bed bug treatment to get rid of those nasty, itchy welt-causing pests. For more information about bed bug treatment in the Lees Summit area, call us today at (816) 287- 5030.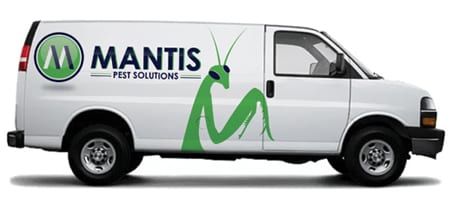 [su_button url="https://mantispestsolutions.com/contact/" background="#4FAD4F" size="10″ wide="yes" center="yes" radius="0″]Get a Free Quote[/su_button] [testimonials]
ABOUT THE AUTHOR: Ty the Bug Guy
Ty Hawkins, also known as Ty the Bug Guy, has been a pest exterminator for several years and exterminated pests all over the country. Ty has worked for many companies including Orkin and Terminix.
While working for these companies he realized he could offer a more friendly and personal service. He called Rick and together they started Mantis Pest Solutions and now offer pest control in Overland Park and Lee's Summit. Ty's goal is to make Mantis more than just your local pest control company, but a business that constantly is giving back the community as well.
Quickly after a few services, Ty became known as Ty the Bug Guy. Feeling a bigger need to help people with their pest infestations he created his own pest control tip blog to better serve the local community and those all over the country with their pest issues.
When Ty isn't helping residents of the Kansas City area get rid of their pests or posting about pest control tips Ty enjoys spending time with his family. They love traveling, playing board games and trying new restaurants. When you call in for a pest control quote don't forget to talk about some of the great places to eat or things to do in Kansas City.
You can also read some of his most popular pest control tips and articles below:
Frequently Asked Questions about Pest Control
5 Things your Pest Control Technician wants you to Understand
How to Bed Bug Proof Your Luggage